2022
Online Education Trends Report
BestColleges' eighth annual Online Education Trends Report provides the latest online and remote learning experience data with insights from students and school administrators.
WE PRESENT AT
Key Findings
BestColleges' eighth annual Online Education Trends Report continues to track trends through feedback provided by online students and school administrators captured through nationwide surveys. This report represents our sixth year of original data collection, with participation from 351 school administrators and 1,800 students. Student respondents included prospective online students, current online students (i.e., those enrolled in fully online programs), current remote learners (i.e., those enrolled in courses not offered in person due to COVID-19), and graduates of online programs. This year's findings are presented in four categories: the learning experience, marketing and recruitment, the continued impact of COVID-19, and student satisfaction.
The Learning Experience
Financial challenges, indicated by one-quarter of online program graduates, continue to be the primary roadblock to graduation.

Finding work-life-school balance is the biggest concern prospective students have about enrolling in an online program.

A majority (60%) of remote learners said they were likely to enroll in online courses or programs after their campuses return to normal operations, which is an increase from the previous year (49%).

One in five remote learners anticipates that the changes they've experienced in their education due to COVID-19 will have lasting effects on their mental health.
Marketing and Recruitment
Current and prospective online students shared that the biggest challenge to making an enrollment decision was/is finding a program that met or meets their needs and interests.

Students shared that college websites and online student reviews are or were their primary sources of information when researching and comparing programs.

Online program alumni continue to identify not doing more research about cost and financial aid as a top regret in their enrollment decision process.
Continued Impact of COVID-19
Forty-three percent of administrators reported that their institutions will continue to offer both remote and online format options for students in the future, up from 33% last year.

Administrators shared that their institutions are taking steps to build long-term flexibility into course design, facility design, student support, and remote work due to their experiences during the pandemic.

Top priorities for the coming academic year for a majority of institutions include providing a variety of student services — including academic (87%) and non-academic (86%) support.
Student Satisfaction
Seventy percent of students said that online education is better than or equal to on-campus education, which is a slight decrease from the previous year (74%).

However, 95% of online program graduates said they would recommend online education to others.

This year 90% of online program graduates said that their degree has had a positive return on investment (ROI), which is down from 93% last year but up from 82% in 2018.
Interested in Learning More About Online Education Trends?
Download the full report for more demographic details.
Meet the Author
Melissa A. Venable
Ph.D.
Melissa A. Venable, Ph.D., is an online education advisor for BestColleges. In this role, she leads this annual survey research project reporting online education trends found through student and school administrator feedback. Melissa is an adjunct faculty member and course designer at Saint Leo University and a certified career coach with a background in career development services. She earned her doctorate in instructional technology at the University of South Florida where her research interests focused on distance education and support services for online students.
Find Additional Research from BestColleges
Explore our expert guidance, including topics like financial planning, career planning, and diversity and inclusion.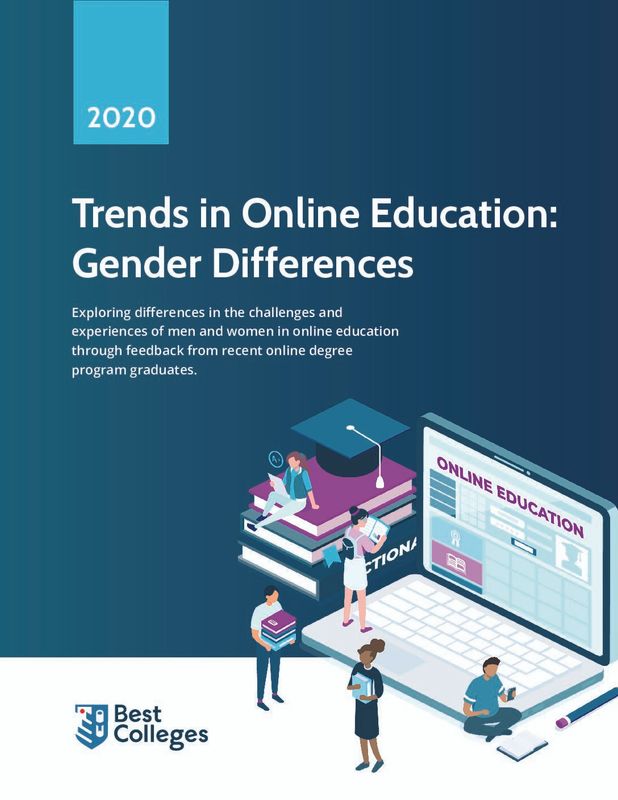 2020 Trends in Online Education: Gender Differences
2021 Online Education Trends Report
2020 Trends in Online Student Demographics Report
Archive: The 2017 Student's Guide to Online Education
2020 Online Education Trends Report
2020 College Career and Employment Planning Trends Report
Archive: 2019 Online Education Trends Report
Archive: 2018 Online Education Trends Report
2016 Trends In Online Education
2015 Online Student Needs Preferences And Expectations
Footer